Check out these Writing Competition pictures:
competition


Image by TZA
Last week to see the Winners of the Beautiful Creations of SL Competition Jan. 2016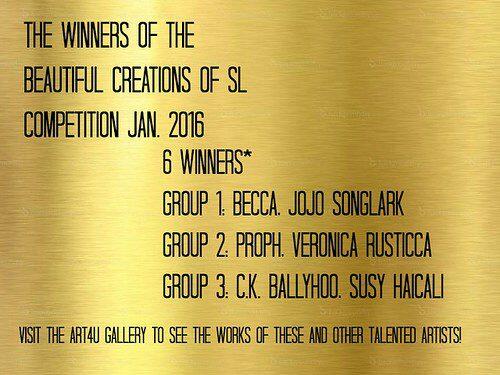 Image by Michiel Bechir
Update: the exposition will probably be open until the top of this month at Art4U!.
Sharontje and I would really like the thanks all of the contributors to this competition. It was an especially troublesome choice to select a winner this time. Because the works have been of top of the range.
We determined to decide on winners in 3 teams:
Group 1: Composition: Becca, Jojo Songlark
Group 2: Mood: Proph and Veronica Rusticca
Group 3: Promising artists: C.ok. Ballyhoo and Susy Haicali.
The 6 winners will obtain an invitation to indicate their works at a coming exposition at Art4U.
Again we have now to say it was troublesome to select winners this time, due to the rising stage of Second Life pictures. So we recommendation to go to the exposition for your self, and see all these stunning works in B/W at our gallery:
maps.secondlife.com/secondlife/0031/68/155/23