Indigenous Australians Minister Linda Burney says she will task the Voice with generating fresh ideas in health, education, jobs and housing from day one, in her strongest comments to date aimed at defining its purpose and agenda.
Burney will use a speech to the National Press Club on Wednesday to outline her vision of the body as being "active and engaged" on key policy challenges facing Indigenous communities if the public backs it in the upcoming referendum, pitching the Voice's relationship with government as collaborative rather than combative.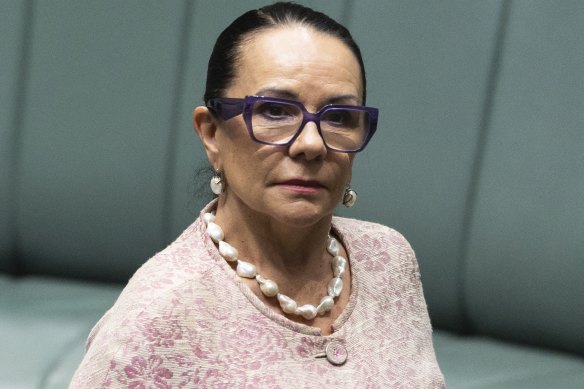 "From day one, the Voice will have a full in-tray. I will ask the Voice to consider four main priority areas: health, education, jobs and housing," Burney will say in the speech, a draft of which has been provided to this masthead.
"As the minister, when I meet with the Voice for the first time, I will say: bring me your ideas on how to stop our people from taking their own lives, bring me your ideas on how to help our kids go to school and thrive, bring me your ideas on how we make sure our mob live strong and healthy lives, how we ensure more people have jobs, how we support families better."
Loading
The speech represents a clear attempt by the minister to reset the foundations of the Voice debate after a torrid parliamentary debate last month, during which Burney came under sustained pressure from the Coalition to define the scope of the body and to rule out taking advice from the Voice on issues such as changing the date of Australia Day.
Opposition Leader Peter Dutton has repeatedly criticised the Voice as being ill-defined and legally risky and has claimed it will have a wide-ranging scope to weigh into every area of policy and "grind the whole system of government to a halt".
Burney will again insist the Voice will make a practical difference in closing the gap in many areas of Indigenous disadvantage and will give examples of how it could provide advice on issues such as low school attendance.
"Let's say a local community identifies a problem like low school attendance … so the community approaches their representative on the Voice and raises this issue with them. The Voice then has the power to make representations on how to improve school attendance in that local community to government and the parliament. It's about linking up that local decision making and local knowledge with policymakers in government," Burney will say.
She will note that last month's closing-the-gap data showed only four out of 19 targets were "on track", while key measures such as life expectancy, housing and healthy birth weights of Indigenous babies were "not on track".
"If we needed any more evidence that more of the same isn't good enough – this is it," she will say.
Burney will also indirectly confront the criticisms of progressive No campaigners, such as Victorian senator Lidia Thorpe, that the Voice will be powerless, saying: "It's not going to be a passive advisory body. I want it to be active and engaged."
While the No campaign argues the Voice will divide Australians by race, Burney will pitch a Yes vote as an "act of patriotism".
Loading
"An act of your belief in Australia. We are the greatest country in the world and we can be even greater if we recognise Indigenous Australians," she will say.
The speech comes at a crucial period for the Yes camp, with polling showing support slipping months out from the referendum, which is expected in October. A Resolve Political Monitor survey conducted for this masthead last month showed the No side leading 51 to 49 per cent when voters were asked the Yes/No question that will decide the referendum.
While Burney's speech represents an attempt to put political guardrails around the remit of the Voice, the provision to enshrine the body in the Constitution gives it a broad scope to "make representations" to the parliament and executive government on "matters relating to Aboriginal and Torres Strait Islander peoples".
Constitutional law experts who support the referendum have pointed out that this wording gives the Voice the ability to advise on a wide range of issues, including Australia Day, while Voice architect Megan Davis has said the parliament "can't shut the Voice up" and the body will be free to decide the issues it addresses.
Instead, they argue the Voice will be constrained politically, rather than legally, to focus on the issues most pressing to Indigenous Australians and not risk squandering its resources or political capital on other matters.
Cut through the noise of federal politics with news, views and expert analysis from Jacqueline Maley. Subscribers can sign up to our weekly Inside Politics newsletter here.