A video has gone viral of a woman with two jobs saying she makes more as a waitress than as a professional dental assistant.
The TikTok clip has received almost 95,000 views since June 17 and was posted by @joigasm. She has been a dental assistant for three years, according to a later comment.
The 25-year-old woman said in the video: "I'm an orthodontic assistant during the day and a waitress at night time on the weekend, so I work part-time as a waitress." She added: "What I make in two weeks at a dental office is what I make in a week at a restaurant."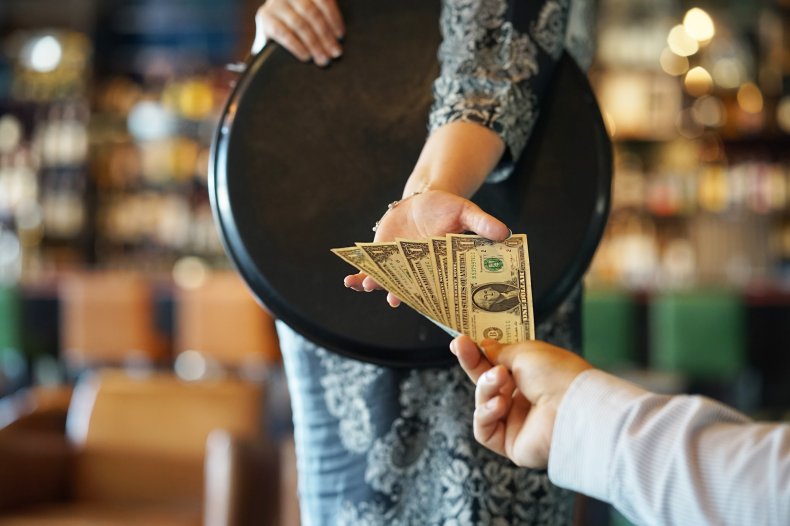 As of May 2022, the mean hourly wage and mean annual wage of dental assistants is higher than that of waiters and waitresses, according to the U.S. Bureau of Labor Statistics. The mean hourly wage and mean annual wage of dental assistants was reported to be $21.50 and $ 44,710; the equivalent for waiters and waitresses was said to be $15.87 and $ 33,020, the BLS data found.
The U.S. Dental Assisting National Board (DANB), the certification organization for dental assistants, says that their salaries can vary widely. It depends on the practice type and location, as well as your experience, education and credentials.
Just under five percent (4.8 percent) of employed Americans were reported to have held multiple jobs in May 2023. This is according to the latest available data from the BLS, published by the St. Louis Federal Reserve.
Women were slightly more likely than men to have a second job (8.8 percent compared with eight percent, respectively). This was based on 2013 data reported by the U.S. Census Bureau. The survey found that, while most multi-job workers had two jobs, 6.9 percent worked more than two jobs.
The woman in the latest viral clip said: "I've made the most money as a waitress…" She said she worked at IHOP (International House of Pancakes) for about a year when she was 19 years old, "bringing home $1,200 in tips in a week."
Noting that being a waitress requires "so much patience," the woman said: "To me, it's worth it. It's worth the money, but not at every restaurant."
In later comments, the original poster said the dental assisting profession is "overworked & underpaid," adding that she's "so ready to quit" and "definitely changing fields."
Several TikTok users were sympathetic toward the original poster and could relate to her story.
Emmanuela wrote: "It's crazy how a lot of jobs pay more than [the] dental assistant [profession]. I work from home and [have] less stress."
User the deranged wildcard commented: "this is so facts it's fast money & [with] the economy we're in now you literally need it."
Slim posted: "Even making $23 [an hour] is not enough nowadays. It's crazy that we have to have two jobs just to live."
Safiya | Entrepreneur wrote: "Girl same. Became DA [dental assistant] at 18 and waitressing at the same time. My check in a week as a DA I made in 2 days waitressing. Left the dental life shortly after."
D D3047 posted: "I'm a nurse and I started looking at restaurant jobs."
Newsweek has contacted the original poster for comment via TikTok and email. This video has not been independently verified.
Do you have a work-related story or dilemma to shared? Let us know via [email protected] with some details, and your story could be featured on Newsweek.