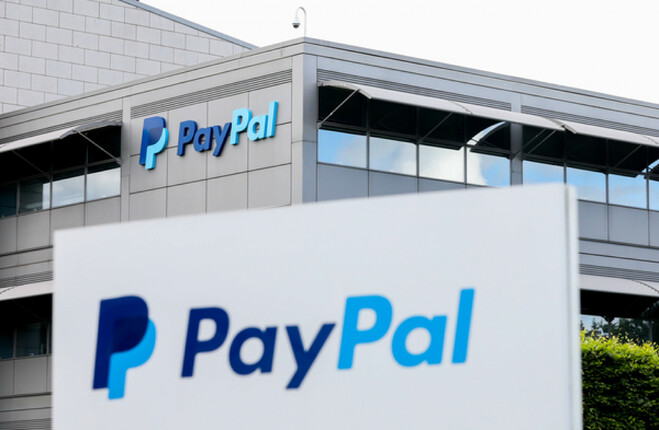 Sasko Lazarov/RollingNews.ie PayPal's offices in Blanchardstown.
# tech layoffs
PayPal to close Dundalk office and cut 62 jobs from Irish workforce
The company also said it plans to sell its site in Ballycoolin and find a smaller office in Dublin.
PAYMENTS FIRM PAYPAL is set to close its Dundalk office in March and cut 62 staff from its Irish workforce.
It comes after the company announced last month that it planned to reduce its global workforce by around 7%.
In a statement this afternoon, PayPal said it is proposing a reduction of 35 roles in Dublin and 27 roles in Dundalk. The proposed redundancies represent about 3% of PayPal's total Irish workforce.
It said no redundancies will take effect until after an employee consultation process has concluded, and that it is committed to ensuring "that colleagues who leave under the proposed changes are treated fairly and generously".
PayPal also said it will close its Dundalk office on 31 March, with all remaining employees set to work remotely after that date.
"There is a small number of contract workers, who are employed by third parties to manage facilities on site, impacted by today's announcement," the company said.
"Those third parties will be able to provide more specific information, as some of these workers may be redeployed.
"PayPal will still play an active role in the local community."
The company said it plans sell its site in Ballycoolin and find a smaller office in Dublin "that better meets the needs of its workforce, which have changed significantly since PayPal opened its Ballycoolin, Dublin office in 2008″.
PayPal said the decisions were based on the "dramatic change in working arrangements" seen since the start of the Covid-19 pandemic.
It said employees in Ireland "have embraced the opportunity to work from home" and that it has seen "consistently small numbers of staff travelling to work" in either office.
Commenting on the announcement, senior vice president at PayPal Maeve Dorman said: "Ways of working at PayPal, as at many other companies, have completely transformed over the last three years.
"Employees, including myself, have really embraced the flexibility of our new working models and the increased opportunity to work from home. As a result, employee footfall at our offices at Dublin and Dundalk has remained consistently low," she said.
"Nonetheless, we have maintained our strong community connections and supports in these regions – and will continue to do so.
"From the outset of this virtual working reality, our focus has been to ensure our employees remain connected and engaged in meaningful ways – and this will remain a priority for us as we move forward.
"Our goal will continue to be to create better, more collaborative, and relevant opportunities for our workforce."
PayPal said it is "committed to Ireland" and will continue to employ around 2,000 people in the country after these changes.
'Urgent clarity' needed
Sinn Féin TD for Louth Ruairí Ó Murchú has said that employees in Dundalk and Ballycoolin need "urgent clarity" as to who will be affected by the job cuts.
"While I welcome the commitment to Ireland that PayPal has given, it is imperative that everything is done to keep the jobs that remain," he said.
"The government must ensure that there is a skills audit carried out on those who are being made redundant to ensure that their transition into other suitable employment is as seamless as possible.
"In addition, the government needs to look at how 120 people who live in the North have been moved onto Northern employment contracts and how this will impact their social protection and state pension entitlements."
Last May, the company announced plans to cut over 300 jobs from its Irish operations.
A number of tech companies have recently announced significant job losses, including Twitter, Microsoft, Salesforce, Spotify and Stripe.
Last week, Google announced that it was cutting 240 employees from its Irish workforce.
It came after Employment Minister Simon Coveney said that Ireland was "over the worst" of the announcements in relation to job cuts at big multinational tech firms with bases in the country.